Power Factor Controller PFW03 Series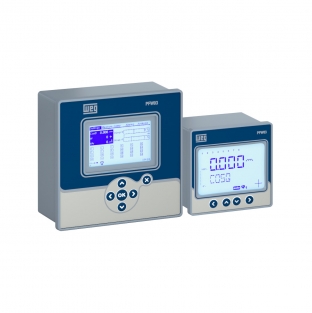 The PFW03 is an automation equipment for the permanent monitoring of the reactive power of the installation and the control of the power factor.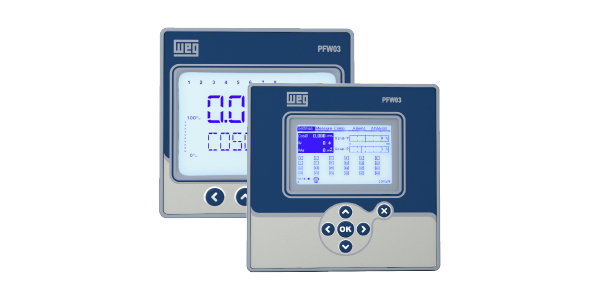 Description
The PFW is an automation device for permanently monitoring the reactive power of the installation and controlling the power factor. This control in the PFW is done by connecting and disconnecting steps of capacitors. Therefore, the Automatic Power Factor Controller enables the power distribution system to operate at maximum efficiency by reducing the reactive power. In addition, it informs electrical parameters such as: current, voltage, power, energy, demands and maximum and minimum values.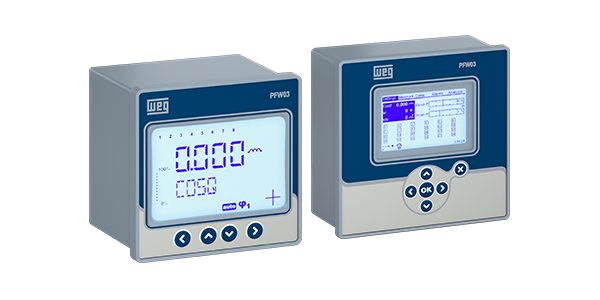 Main Characteristics
Switching of capacitors and reactors with 8 to 24 control steps available;
Applicable to balanced and unbalanced systems;
Ability to "learn" and record the reactive powers of the steps. No parameter setting of each one required;
Dynamic step monitoring - DCM that speeds up maintenance and increases reliability in power factor correction;
Ability to "learn" and check the current and voltage connections making it easy to correct such connections;
Multiple reactive power compensation modes;
Option to create 2 reading periods of electrical parameters using the available digital input;
Internal temperature sensor;
Recording of the switching cycles and actuated times of the steps;
Configurable step discharge times;
Direct and reverse energy measurement;
Recording of the maximum, minimum and average values of the available electrical parameters;
Configurable digital inputs and outputs;
Phasor diagram, table and bar graph of harmonics up to the 51st order for current and voltage;
Calendar and real-time clock;
Programmable password to access the keyboard;
Identification on the display of the activated alarms;
Communication with RS485 isolated serial output, Modbus-RTU protocol;
Pluggable connecting terminals for easy maintenance;
Equipment with CE certification.