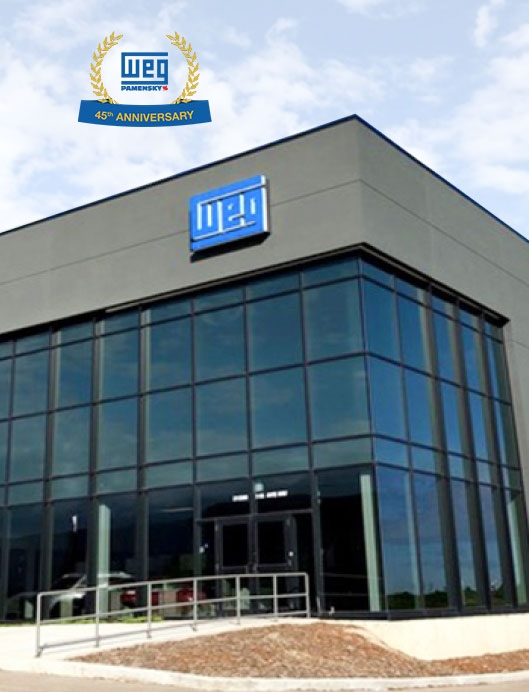 ABOUT US
V.J. PAMENSKY CANADA INC.
VJ Pamensky Canada Inc. is one of the largest importers of electric motors in Canada with offices and warehouses across the country. V.J. Pamensky Canada Inc. has possibly the largest inventory of any motor company in Canada.
V.J. Pamensky Canada Inc. was founded in Toronto, Ontario in September 1977 as the exclusive importer of WEG Electric Motors, Controls and Transformers into Canada. The original inventory was small, as were the premises, but these products quickly found a place in the Canadian industrial market. From these beginnings, growth came rapidly, resulting in successive moves to different locations in order to meet the demands for increased inventory and service.
Read more
Testimonials
Dating back 36 years, my relationship with V.J. Pamensky has allowed Trade-Mark Industrial to become a leading distributor in the Southern Ontario electric motor market. We promote the Weg "Brand" as one of integrity and quality. A majority of our customers ask for Weg by name. We depend on the VJP inventory, technical support and consistent service to satisfy the demands of our diverse clients. 24 hours a day, seven days a week, VJP is there to reinforce our commitment to our customers.
Tom May
Motor Shop Manager
I would have to say that our experience at Belle Plaine with WEG motors has been very positive. We have found that the WEG motors are built to very high-quality standards which give them some of the following characteristics. - motors are very quiet - very robust and durable - very smooth running with low vibration levels. WEG will work with their customers to come up with a solution where most manufacturers will not customize! - price and delivery are very competitive. To sum things up we are very pleased with our WEG motors and plan to purchase more in the future.
Dennis Muldoon
Mosaic Potash Belle Plaine
Thor Global has been dealing with V.J. Pamensky for over 35 years. Employees are honest, trustworthy and very accurate in what they do. This is one of the best suppliers we have ever dealt with. We purchase a range of WEG motors for our conveyors on a weekly basis. WEG products are very robust and reliable. When we require custom solutions the staff are knowledgeable, professional and prompt to respond. Thor Global highly recommends V.J. Pamensky for WEG motors.
Torben Johannsen
Thor Global Enterprises Ltd
I have been dealing with VJ Pamensky / WEG for over 20 years and they have been a major contributor to our success as a motor repair and distribution service center. We have dealt with all of the major motor manufacturers and WEG continually outperforms them and provides more features to minimize our customers downtime. VJ Pamensky truly understands how important customer service and in stock inventory is and has become our trusted partner to offer an unmatched customer experience. Whether it is offering flexible solutions and offerings to after sale service I know VJ Pamensky will stand behind WEG and back us up to make sure our customers are provided the best service, quality and pricing possible. No other motor manufacturer offers the factory backing and flexibility to offer custom drop in motor replacements and factory engineered solutions to ensure we provide the best products possible to ensure the customer receives maximum life from their WEG products and minimum downtime.
Dave Calvert
IPS
Why Us
One of the Largest Electric Motor Inventories in Canada
Faster deliveries
Broader selection
One of the Largest Electric Motor Inventories in Canada
Faster deliveries
Broader selection
One of the Largest Electric Motor Inventories in Canada
Faster deliveries
Broader selection
Faster deliveries