50.001 up to 400.000 kVA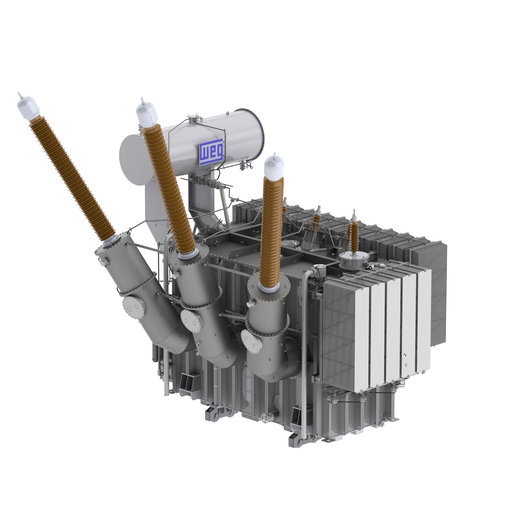 Large power transformers are designed to ensure high performance in a variety of applications and market segments, meeting the specific needs of power companies and of the industry in general.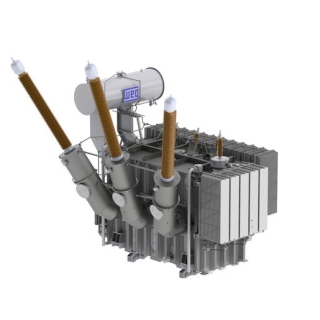 What is the purpose of a large power transformer?
The transformers with output above 50,000 kVA are responsible for adjusting the voltage among the different parts of the circuit in large power systems, enabling the power transmission in medium and long distances as economically as possible.
Their most common application is in power utility companies, where they interconnect the power generation and transmission systems with the local distribution systems; however, they can also be used in large industry substations.
Main Characteristics
Designed according to the criteria established by NBR standard 5356 or complying with the specifications of the power utility company and/or specific requirements of each application;
Usual outputs are quite varied (80, 100, 150, 200, 300, 400 and 500 MVA), including many specific characteristics when applied to systems with single-phase transformers, composing three-phase banks, and voltage classes up to 550 kV;
Voltage regulation made by on-load tap changer (OLTC) and No-Load Tap Changer (NLTC);
External coating for any aggressiveness level, with the choice of metallization of the tanks, producing additional strength for extremely severe environments;
Option of renewable based, ecologically correct, (natural or synthetic ester-based, biodegradable) insulation fluid, presenting high safety level of flammability with fire point twice as high as the one of mineral oil and self-extinguishing properties, thus reducing the risk of both fire outbreak and propagation;
Conductors covered with thermostabilized insulating paper class E (120 °C), whose special characteristic is to delay the regular aging process of the transformer;
Usual application with continuously transposed cable (CTC) in the manufacture of the windings, producing lower electric losses and simplifying the sizing regarding the endurance to short circuit stresses;
High-performance equipment, often supplied based on the loss capitalization criteria typical of each user;
Layout developed to adapt to any configuration (position of the command and control circuit panel, radiators, conservator, high and low-voltage bushings, etc.);
Step-lap-type magnetic core, resulting in optimization of the noise level and low exciting current, in addition to better natural anchoring of the set to withstand short circuit stresses.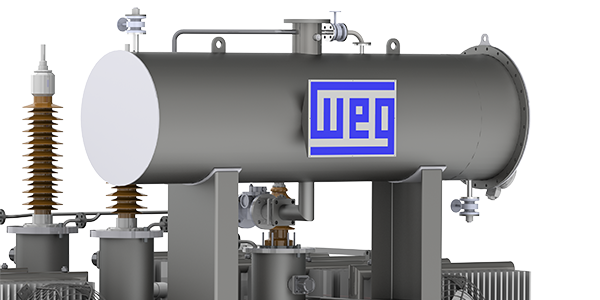 WEG Advantages
WEG power transformers are designed to ensure high performance in a variety of applications and market segments, meeting the specific needs of the power companies and of the industrial segment in general.
The verticalization of the manufacturing processes (making the electrical insulating varnish, electric wires, tanks, insulating kits, coatings, etc.) is a remarkable characteristic and advantage of WEG, allowing broad quality control of the different production phases, as well as flexibility in lead times.
A wide network of accredit Technical Assistants is present all over Brazil, ensuring fast, local technical service and support to WEG's customers.
Applications
Power generation, transmission and distribution system of power utility companies.
Substations of large industrial consumers.