CFW11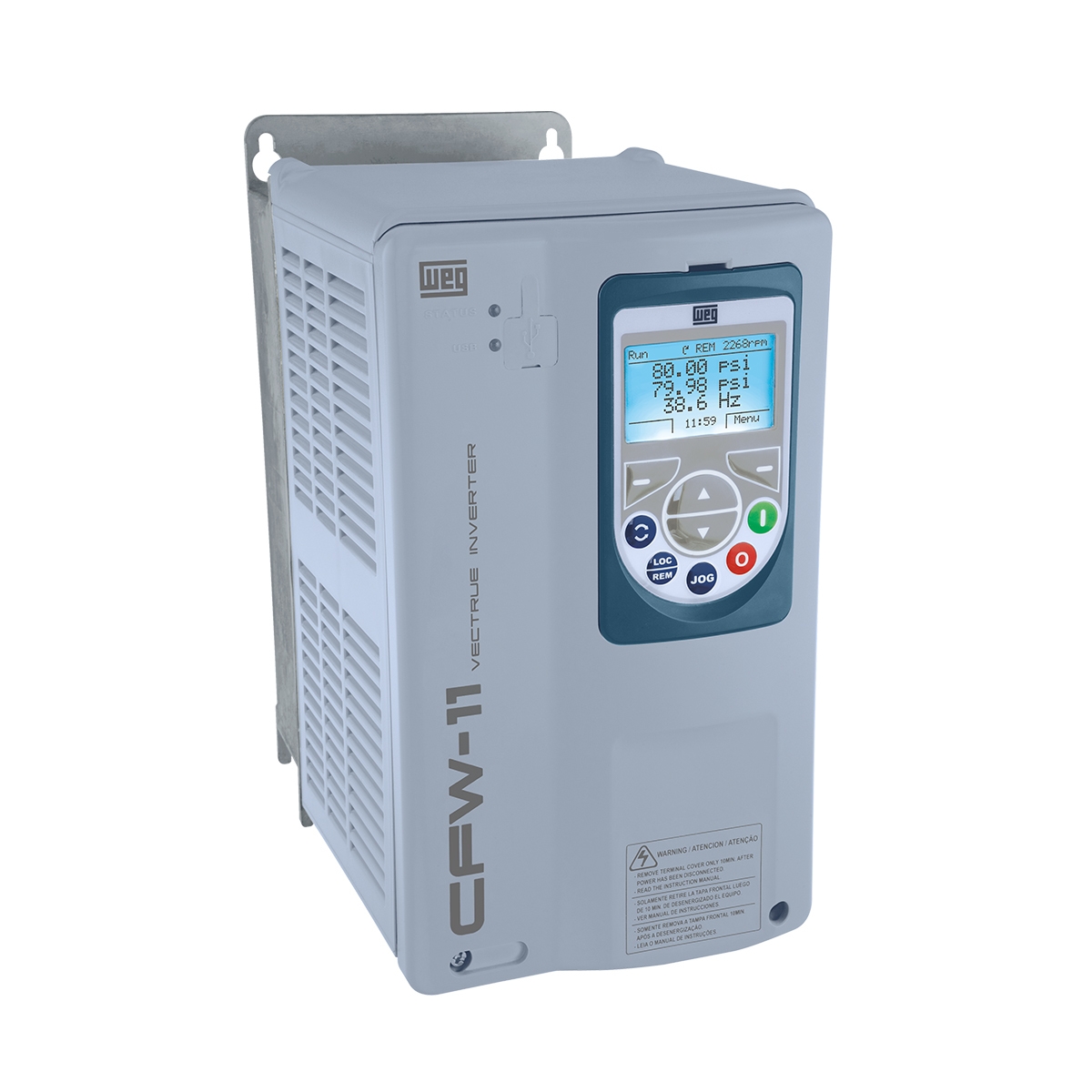 With high technology for control of three-phase induction motors and permanent magnets synchronous motors - Magnet, the CFW11 Series achieves the performance increase for the most complex drive systems. Design exclusive for industrial or professional use, the CFW11 presents many innovations adding significant benefits to customers, a lot for its simplicity of installation and operation, based in the Plug-and-Play philosophy also allowing simple and quick installation of its accessories.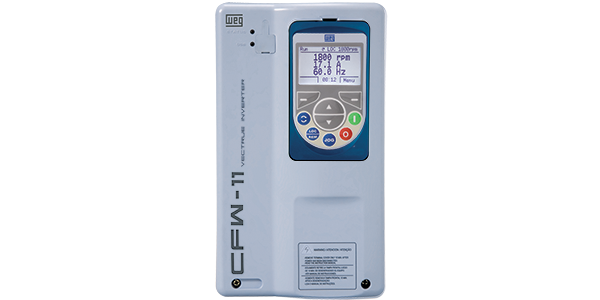 Vectrue Technology®
Linear and adjustable V/F, VVW (Voltage Vector WEG) and vector control are available on CFW11
Two types of vector control: sensorless and closed loop vector control (encoder Interface required)
Sensorless vector control permits high torque and quick response in open loop, even at low speeds
The self-tuning function sets the vector control or VVW with the motor and to application load used
By the adjustable V/F control, it is possible, for example, to adjust a quadratic V/F curve, providing energy savings for quadratic torque loads (e.g.: centrifugal pumps and fans)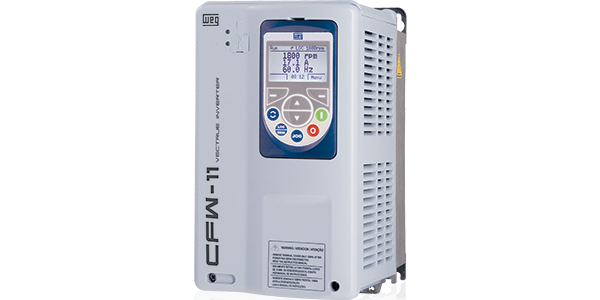 Optimal Braking®
Applications involving high inertia loads, when applied short time deceleration, a large amount of energy returns from the motor to the VSD. To handle this energy, reguilar VSDs have to dissipate it as heat in power resistors. Such resistors are usually large and some installation criteria must be considered due to their heat dissipation. As an alternative to the use of braking resistors, CFW11 features a special braking method in vector control mode known as Optimal Braking®. This innovation delivers a high performance braking torque without requiring a braking resistor. The following graph shows the advantages of using Optimal Braking® compared to other braking methods, thus ensuring an optimized and low cost solution for braking applications.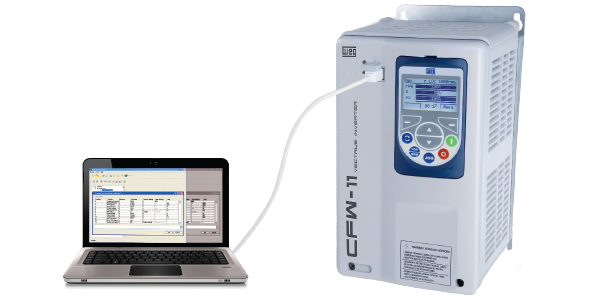 SoftPLC Function
It is a resource that provides PLC features to the CFW11 without the addition of any accessories. It provides flexibility to the product, allowing the user to create his/her own applicative software (user's program).
The SoftPLC main features are:
Ladder language programming using WLP software
Access to all VSD parameters and I/Os
Configurable PLC, mathematical and control blocks
Applicative software download, upload and online monitoring via USB connection
Storage of user application in the CFW11 flash memory module (see below)
Memory capacity of 15 kB for user application storage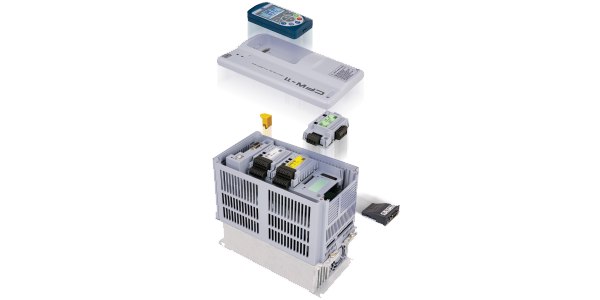 Flexibility is Our Philosophy
The CFW11 was developed based on Plug & Play philosophy, identifying automatically the accessories plugged in, as well as easy installation and safe operation with no need for extra configuration.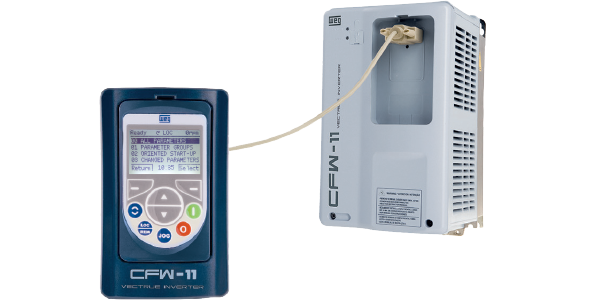 Remote Keypad
The keypad can be installed on panel doors or machine consoles with a IP56 protection degree.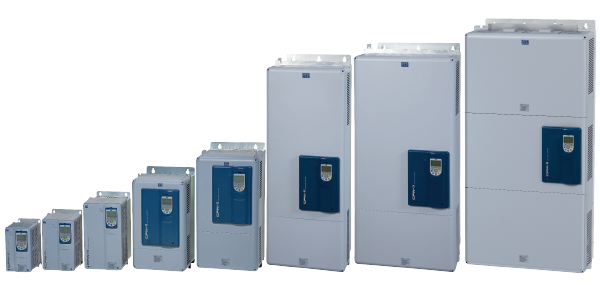 Main Characteristics
Power supply:

200 to 240 V single-phase: output current from 6 to 10 A (2.0 to 3 cv)
200 to 230/240 V three-phase: rated output current from 7.0 to 211 A (2.0 to 150 cv)
380 to 480 V three-phase: rated output current from 3.6 to 720 A (2 to 970 cv)
500 to 600 V three-phase: rated output current from 2.7 to 435 A (2 to 850 cv)
500-690 V three-phase: rated output current from 2.7 to 365 A (3 to 850 cv)

Built-in inductors on the DC Link
Space saving in the panel
Built-in USB port
Inverter smart cooling system
Several communication protocols available (Modbus-RTU, Modbus-TCP, Profibus-DP-V1, DeviceNet, CANopen, EtherNet/IP, EtherCAT, PROFINET-IO and BACnet)
Version with cabinet with degree of protection IP55 (versions with built-in switch-disconnector)
High precision and reliability in speed and torque control
Robust hardware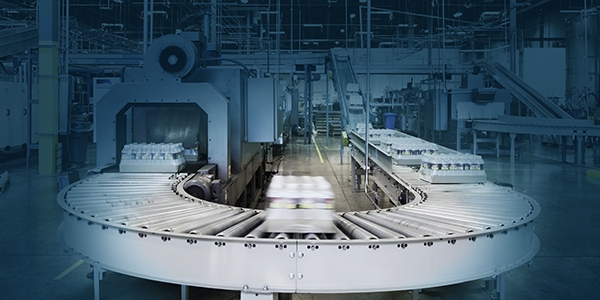 Applications
Its vast range of functions, easy configuration, installation and operation, in addition to the versions for electrical and modular panel mounting, make the CFW11 suitable for applications in different sectors of the industry:
Pumps and fans
Compressors
Multipump control
Load lifting
Machine manufacturers and processes in general
Paper and cellulose
Wood
Cement
Mining
Petrochemical or chemical
Steel plant
Metallurgy
Refrigeration
Sugar and Alcohol